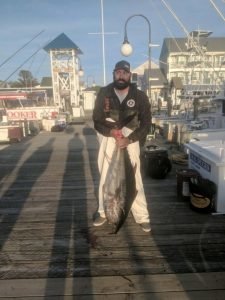 Good bite on BFT today, over and unders. RL1 available this week Thur, Fri, Sat.
Restless Lady II brought in 55″ Bluefin tuna Tuesday. Ocean City, MD first tuna of the year.
We had 4 bites in the Wilmington Canyon last Tuesday May 7th. Water temp was 68 degrees, all bites on ballyhoo with blue and white skirts. We kept one 55″ fish, released 2 unders and pulled one off.
We are very excited about the Reg changes that allow charter boats to keep 3 and 1 and our big boat 6 and 2, see attached reg screen shot.
Need 4 anglers for a trip on Restless Lady I/ Wednesday May 29th. 12 hour tuna shark trip, $350pp                   Prime Memorial Day weekend dates available too.