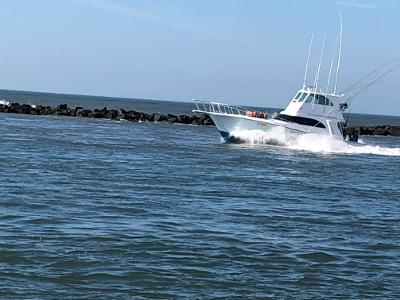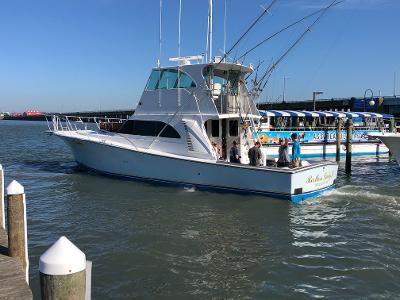 Restless Lady II now at Talbot Street Pier, USCG Inspected vessel that can carry large groups up to 25 passengers. 
The Restless Lady II is a 2004 custom sport fisherman built using a 52′ Henriques Hull. She is powered with twin 3406 Caterpillar diesels ( both rebuilt in 2021) which provide 800 horsepower each. The Restless Lady II was built with the customer in mind. She has a large salon with heat, air conditioning, TV, VCR, stereo, microwave and other amenities to make you feel at home, and is laid out for comfort. Plenty of seating is available along with a table for your convenience. She has state of the art electronics to help find the fish and stay with them. The cockpit was planned with the fisherman in mind and has 280 square feet of fishing room. It also includes 4 fighting chairs and 13 rod holders for your convenience. There is a large "in-deck" kill box to keep your catch fresh throughout the day and/or night. For the night fishing the Restless Lady II has 4000 watts of lighting that illuminates the cockpit and the surrounding waters. She also has a 50 gallon live well to keep bait alive when needed.
We specialize in Tuna, Sword / Pelagics that swim in the Offshore Canyons and offer 60 mile, 80 mile and overnight trips throughout the season. 
We are also a tournament  boat set up to allow our clients to compete and land the big Fish necessary to play and score. Cap Chris placed 1st Mahi and 3rd overall largest Fish ( Sword) in the Huk – Big Fish Classic – his  first Tournament entered as a Captain. The RLII crew is young but seasoned, aggressive and networked.. Chris has been fishing the offshore waters for several years and regularly puts fish on the deck. Additional trips offered :
Evening 4 hour shark trip – Leave dock at 5pm and return at 9pm, we will setup for shark fishing about 5 miles off the beach and anticipate catching several species of sharks to include Duskie, Spinner, Sandbar Tiger, and Dogfish shark. All sharks are catch and release. Lots of fun and action with a group or the family. Up to 8 anglers for $1000 with a max of 12 anglers, $100 pp over 8 anglers.
Evening Inshore Sunset Cruise – 2 1/2 hour private sunset cruise for up to 15 passengers $1000. Leaves dock at approximately 5:15pm and returns by 8pm. A relaxing slow cruise of sightseeing up the coast of Ocean City or the beaches of Assateague Island. BYOB. Perfect for family gatherings, birthday party, business meet /greet, happy hour.   
Bereavement Services
Bachelor/Bachelorette Parties – The ultimate Bachelor/Bachelorette Party, with your favorite people, 60 miles offshore with beer, music, and catching fresh Tuna and Mahi for sushi rolls. Bring the soy and wasabi and eat sashimi right on the boat, ah that's fresh! Better than a  pub crawl . Bond with your party on the sea. We just installed a new killer stereo and DVD player for your tunes and entertainment. you'll have fun and be safe with our excellent crew. Bring booze and food,  plenty of room for everything.
Book early if you want a Friday, Saturday, Sunday, or Tournament. 
---
There is a $500 deposit (8-12 hour trips) required to reserve the day you want to fish and an $800 deposit for overnight trips.
Any trips cancelled by Restless Lady II due to weather or any other factor will be rescheduled in the current year or carried forward into the next.