Hello Anglers,We're a little behind on the time line for this show but you can probably get it on demand or in May, a great show to get you ready for the upcoming season.
The bite is great at Hatteras right now. We'll be standing by for any late winter interested parties and we'll also start some overnight trips in NC in April. We'll be sending weekly reports from Hatteras.Check out Versus or set your recorders for this Friday Feb 11th at 4:00 PM. Our good friend John Oughton "That's Right Charters" Will be on George Poveromos saltwater fishing show catching Yellowfin and Bluefin . I saw it Saturday it's a great show and you can see some of the Ocean City Maryland fishing we do there 1st hand.
OCEAN CITY, MARYLAND – TUNA BONANZA – Tuna is the big draw for mid-Atlantic offshore anglers, and Ocean City, Maryland, is a red hot destination for them. Fishing on That's Right with George Poveromo on the troll for bluefin tuna. With a full array of skirted and plain ballyhoo in the spread, and backed by Penn International tackle, the team gets into a hot bluefin bite. This can't-miss episode showcases not only just how good the tuna fishing can be off Ocean City, Maryland, but also how to locate bluefin tuna here and the most effective rigs, baits and trolling patterns. When the smoke cleared, Poveromo scored several bluefins up to 126 pounds, and even yellowfin tuna up to 50-poundsFeatured airing: Saturday, February 5 – 11:30 a.m. (Eastern Standard Time)Encore Performances: Friday, February 11 – 4:00 p.m.
Saturday, May 7 – 11:30 a.m.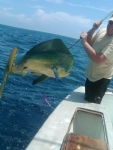 Thanks from the Restless Lady
Captain Sean Welsh
443 373-3413