Today I was a guest on the dog friendly charter boat "The BEAGLE" with Capt. Bill Dillon. The day started with good weather, but mother nature would close in on us cutting the trip a little short. We did ccatch 4 out of 6 wahoo bites and a couple king macks along with 6 AJs and one blackfin tuna. The Beagle and The Restless Lady are standing by and ready to fish. The St. Benard Oliver was the four legged guest on the Beagle boat today.
Thanks from the Restless Lady
Captain Sean Welsh
443-373-3413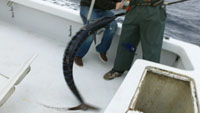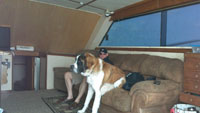 Fishing Report For: February 22, 2011
Alright here we go Hatteras report — things are heating up! Yesterday was great, charter fleet reporting numbers of bluefins released and 1 per boat kept, also have got a call with great blackfin report from Morehead with wahoos. Will be headed down to prep boat on Monday. Also a few gaffer dolphin from Morehead. We will be watching weather and will stay on fishing reports.
Capt. Sean